Table View is an alternative structured view and organization of the same tasks that are shown in the Onfleet map view.
Tasks are presented as rows in a flexible table format that features task sorting, task property visibility customization, and batch task actions - powerful tools for efficient dispatching, particularly for high task volume operations.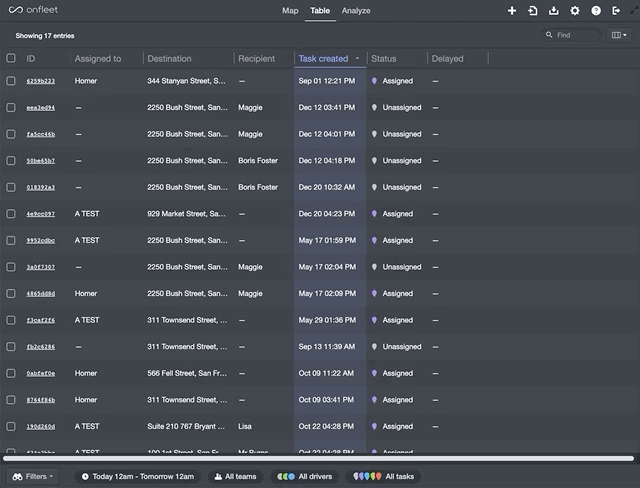 To switch to Table view, click the 'Table' tab on the top center of the screen while logged in to the Onfleet dashboard.  
Filter tasks
Dashboard filter settings, found at the bottom of the screen, determine which tasks are visible in Table view in the same way that it does in the Map view.

Reorder columns
To change the column order, click on the column header and drag it to a new position. 
Note: the 'ID' column is the only column that cannot be reordered.
This order will be preserved across dispatching sessions. 
Add/remove columns
To add or remove columns from the table view, click on the column selection button (found just below the logout button) in the upper right hand corner of the screen. 
Note: 'ID', 'Assigned to', 'Destination', 'Status', and 'Task created' columns cannot be removed.
The selected columns will be preserved across dispatching sessions. 
Sort tasks by column
To sort tasks by a specific column, click anywhere on the column header and release. The sorted column is highlighted in blue.
All tasks are sorted according to the data type for that column, alphabetical or chronological. 
Toggle between ascending and descending order by clicking again. 
View and edit tasks
To view a task's full details (including the task timeline, view route, metadata, and any other details not shown in table view) click on the task ID. 
The task can then be edited by clicking the edit button on the bottom left of the task view, in the same way as it is done in the map tab.
Select multiple tasks
To select one or more tasks, click the checkbox to the left of each task that should be selected.
To select a range of tasks:
select the starting task's checkbox
hold the 'shift' key
select the ending task's checkbox
To select all tasks, click the top-most checkbox, found in the column header. Click it again to deselect all tasks.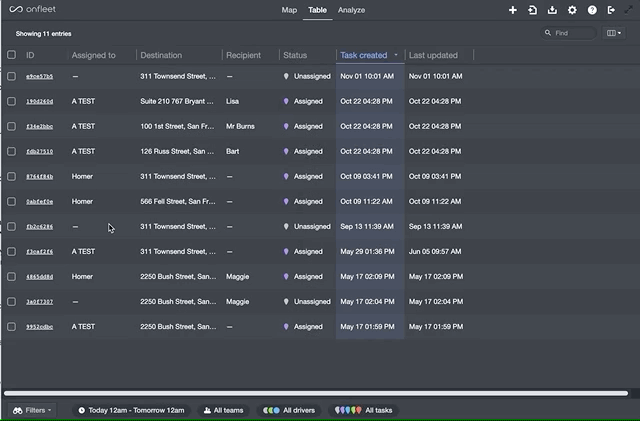 Bulk task actions
After selecting at least one task, task action buttons will appear at the top of the table view screen. This allows dispatchers to easily perform batch actions on multiple tasks. 
Depending on the features included in the organization's Onfleet plan, available task actions include: route optimization, driver assignment, and deletion.
Find in table
Search for text in any field of any task from the 'Find' text box in the upper right of the screen. 
Only tasks with a field that matches the text entered are shown. 
Delete the entered text to show all tasks again.
Note: Constrained by dashboard filter settings.