New Features 🎉
Route Analytics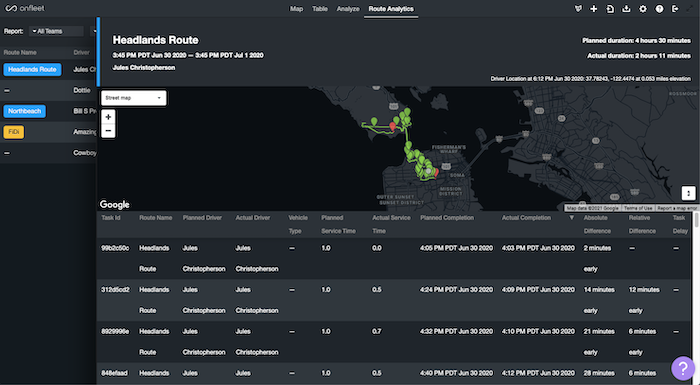 Route Analytics is now available in Beta for Premium and Professional plans! Route Analytics provides you with data to better assess driver and route performance. This feature gives your team the tools to improve efficiency for both drivers and planned routes.
Learn more
Map Search (now available on all plans)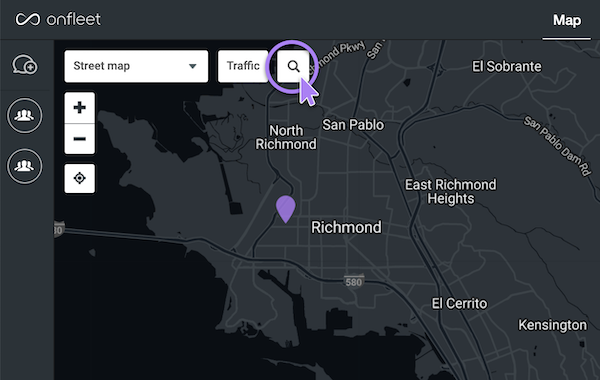 Need to create a task from an exact spot on the map? Now users on all plans can find an address or area on the map with ease. No more clicking and zooming around the map to find a city, neighborhood, or address. Click the magnifying glass to the right of the map tools to try it out.
Feature Improvements ✅
Route Optimization Date Sorting
When you assign optimized tasks to drivers with tasks across multiple dates, they will now be ordered correctly. This means you can optimize tasks for today even if some of your drivers already have routes for tomorrow or beyond.
Task Export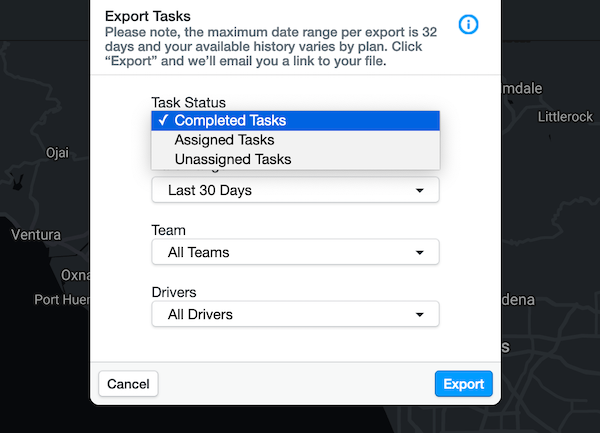 In the past, you may have found occasional outdated tasks in your exports. That's now been fixed! We've also improved the design to clearly reflect how the Task Export works. Note: there were some bugs with exported spreadsheets initially, but those have now been fixed as well.
Learn more
Dates of Birth export available
If you work in an industry that requires scanned IDs in order to verify DOBs, your administrators are now able to include this data in your task exports.
Learn more
Improved Read-Only account access
"Read-only dispatchers" are now shown just the parts of the dashboard that they have permission to edit, resulting in less ambiguity and no more annoying error messages!
Learn more
Custom cadences for scheduled imports
Now there are more options for you to re-import tasks on exactly the right schedule for your business.
Learn more
API & Webhook Updates 🤖
A new type of API key built for privacy
Administrators can now create "scoped" API keys that can only read data for tasks that they create. This allows you to control what integrators and third parties can see with their API keys.
Learn more
A new Time Estimate endpoint
The Driver Time Estimates endpoint allows an API user to get estimated times for tasks that haven't been created yet. Ideal for customers with on-demand delivery models, you can use this to provide estimates to end recipients/customers in external e-commerce systems before an order is placed.
View the docs
More data in webhooks
More data is now available on the "taskUpdated" webhook.
View the docs
Coming Soon 🗓
In Q2 we are working on everything from dashboard speed & performance to a new recipient tracking page. We're also hard at work on some Route Optimization improvements, including new optimization modes, more control over optimization parameters, and easier re-optimizations!