In this article, you will get acquainted with the structure of your Onfleet organization and the difference between the three email fields available in the "Settings" option of the administrator account for an organization.
Organization Structure
Administrator
Your organization has one administrator which is created upon registration. Only the administrator can configure the organization, add and manage teams, hubs, and dispatchers. The administrator can also add drivers and access analytics for the entire organization.
Teams
Teams group drivers and dispatchers together and are used to segment an organization by geographic area, operational unit, or any other desired structure. The administrator has access to all teams while dispatchers and drivers have access only to teams they have been assigned.
Hubs
A Hub is a central location from which your drivers start and end routes. For example:
A city headquarters

A warehouse

A central kitchen

A parking lot
Hubs are created by administrators and can be assigned to one or more teams. However, teams can only be assigned one hub at a time.
Dispatchers
Dispatchers are added by the administrator and are assigned to one or more teams. A dispatcher is a dashboard user who views and/or manages drivers and tasks for assigned teams. For example:
A driver manager

A route planner

A customer service agent
Drivers
Drivers are added by the administrator of an organization or a dispatcher and are assigned to one or more teams. They complete tasks in the field using the driver app on Android or iOS.
Tasks
Tasks represent pickup or delivery work to perform at a destination. For example:
Delivery of groceries or meal kits
Delivery of a medicine prescription
Pickup of laundry or dry-cleaning
Pickup of a retail/e-commerce return
Tasks are completed by drivers using the driver app on Android or iOS.
Organization Email
The "Organization Email" is found under the "Organization" tab in the settings for an admin account, this email will receive the majority of communications from Onfleet but please note - this is not the log-in email for an admin account.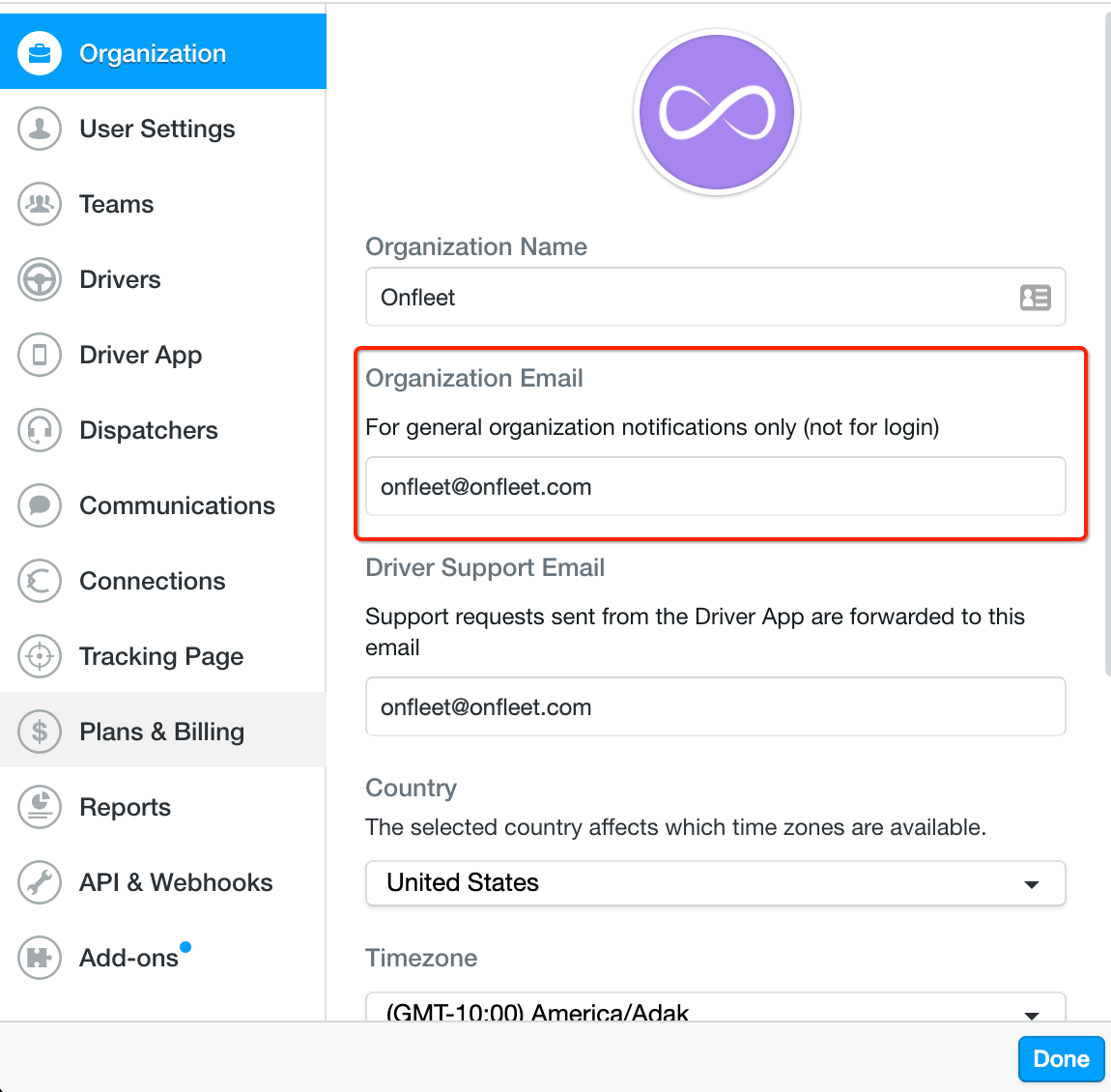 The email you place in this section will receive the following communication:
Receives email digests (daily/weekly).
Trial updates.
Connection requests.
Webhook failure messages.
Alert notifications, such as: 'STOP' sent by the recipient in response to notifications.
General contact emails from Onfleet (including Support, Success, Sales, etc).

Driver Support Email
This email will receive any support requests or questions from drivers in your organization.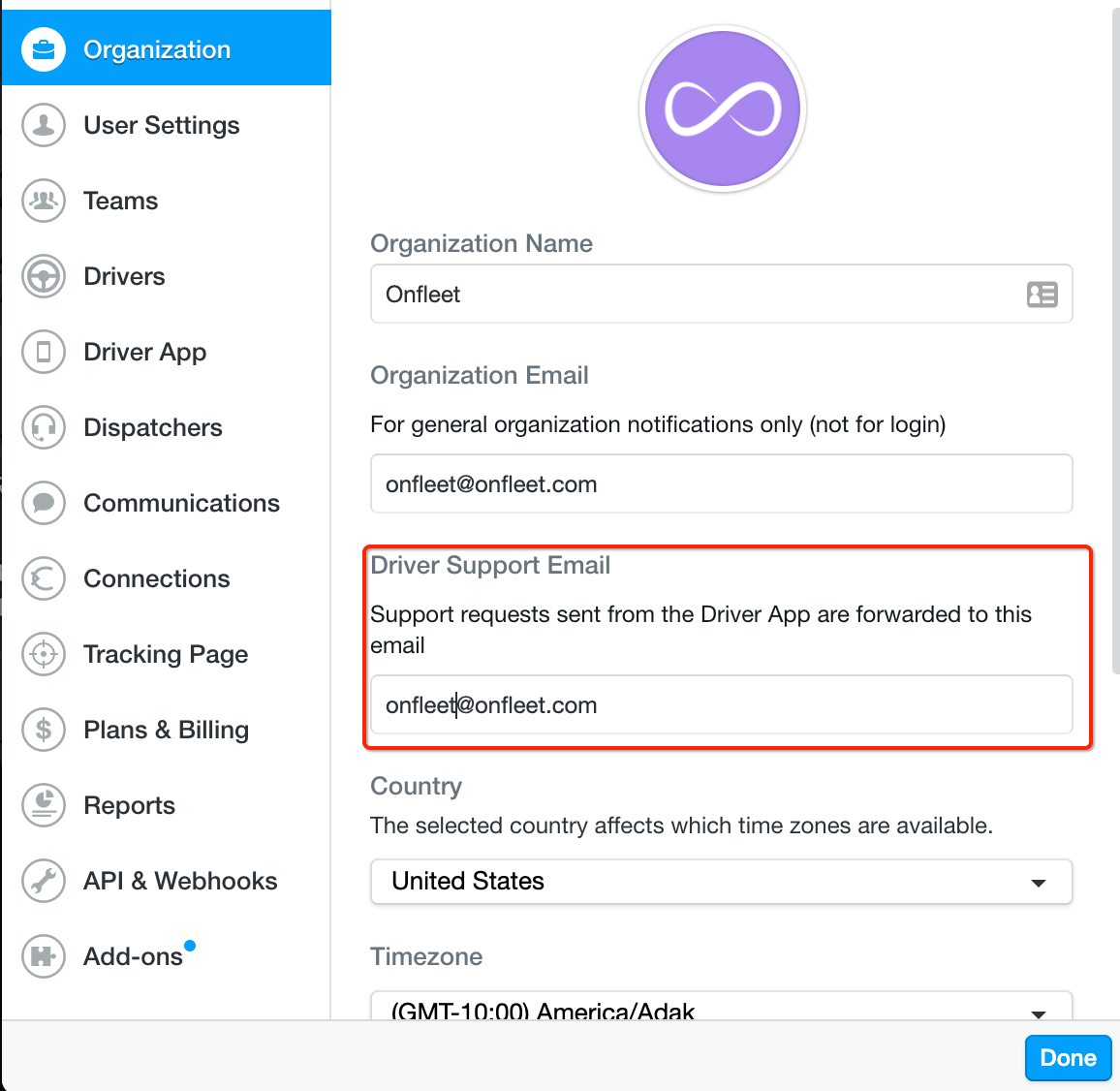 Admin Email
This email is the log-in email for the administrator account and can be found under the "User Profile" section of the settings in the admin account.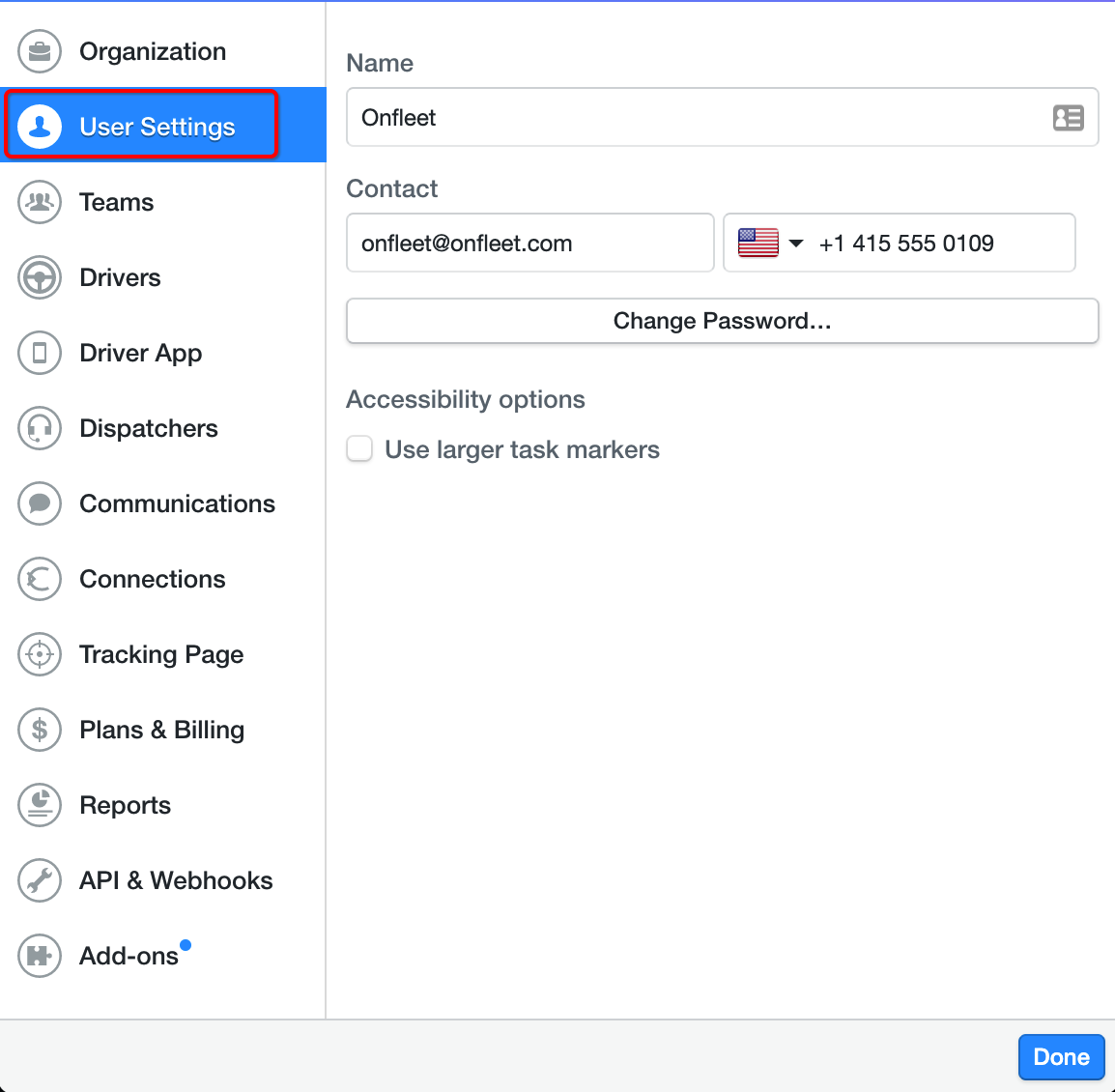 This email is responsible for the following:
Username for the admin user.
Organization email.
Receives 'Unrouted SMS/call received' emails if there is no dedicated number set and call anonymization is enabled.
Can receive "Task Export" email (if the export was initiated by the admin user).