In this article, you will find details regarding Onfleet privacy and data terms.
Data Access and Deletion
We provide you access to the data stored and generated from your use of Onfleet via task export and the dashboard's analytics tab/export.
Your export history limit is based on your billing tier.
If you are no longer using Onfleet and would like your data erased from our databases, submit a request and we will process the removal within 7 calendar days.
Third-Party Sharing
We take the integrity of your data very seriously and will never share it with a third party unless absolutely necessary for the delivery of the Onfleet service. Your data will never be provided to third parties for advertising or marketing purposes. For more information, see our privacy policy.
Driver Location Tracking
Driver locations are collected from the device's native location service, which combines GPS, cell tower, wifi, and other sensor data to accurately pinpoint a driver's latitude and longitude while "On-duty."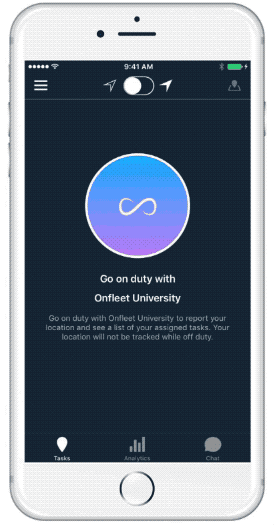 We do not access, collect, or store any information from a driver's mobile device when they are off-duty or offline.
For additional detail on how we collect, use, and disclose of information from or about you through our website onfleet.com and the Onfleet service, visit our Privacy Policy.
Data Security
All data is encrypted in transit and at rest using enterprise-grade 256-bit encryption. Access to databases and servers is tightly managed through the use of least privilege standards and administrative control tools.