In this article, you will learn about Onfleet's telecommunication standards, as well as learn best practices for sending SMS messages to your customers.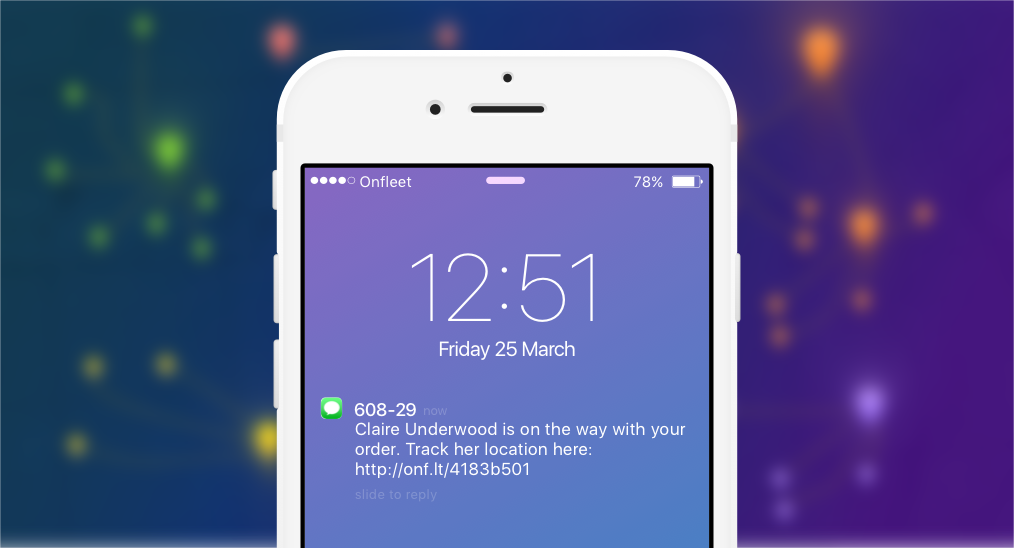 Telephony Overview
Onfleet telephony is carrier-agnostic and should work equally across all providers. Depending on your location, Onfleet partners with telephony service providers to provide you with the most reliable and economical coverage.
For US-based organizations without a custom phone number, automated notifications and anonymized texts are sent from a fixed 5-digit shortcode: 608-29.
In compliance with shortcode industry standards, your recipients are allowed to opt-out of receiving text messages through Onfleet by responding to the keyword STOP. Whenever your recipients text the keyword HELP to the Onfleet short code, they will receive instructions to reach out to Onfleet Support.
Inbound calls and SMS messages from recipients to the Onfleet notification phone number (shortcode for US-based organizations) will be routed to either the driver or dispatcher's phone while a task is active.
Once a driver completes a task, the task's recipient will no longer be able to connect a call or message via the Onfleet number. If a recipient attempts a call/message after the connection is severed, we will make every attempt to determine the intended organization and send an email with details to the organization's listed admin email address.
Note: If you have purchased a dedicated telephone number a recipient's call and SMS attempts after a task is complete will fall-back to your Admin's phone number as defined in your settings. If an Admin's provided phone number does not support the receipt of SMS messages, they will be routed as indicated above.
Can an Admin respond to a customer's SMS?
Organizations have the option to route customer communication directly to the administrators instead of drivers. However, due to the possibility of multiple tasks being active, administrators are not able to respond directly to inbound SMS messages from recipients.
Exporting Telephony Data
You can download a record of your Telephony charges by logging into your admin account, selecting "Settings", then selecting "Plans & Billing". Your record will provide you with an export of SMS and voice calls made using the Telephony feature.
Best Practices for sending SMS messages to your Customers
Do I need permission from my customers before sending SMS text messages?
Note: The following applies to United States customers ONLY.
Text messaging your customers is covered in the Telephone Consumer Protection Act (TCPA), which is governed by the Federal Communications Commission (FCC).
Essentially, the Act states that you must disclose the following two items in a "clear and conspicuous manner" at the time of mobile phone collection:
By participating, you consent to receive text messages sent by an automatic telephone dialing system.

Consent to these terms is not a condition of purchase.
Additionally, our telephony providers will handle the following messages on long codes in accordance with industry standards (Note: This is entirely independent of Onfleet opt-out settings and will not be reflected in the recipient profile in the dashboard).
STOP, STOPALL, UNSUBSCRIBE, CANCEL, END, and QUIT will stop customers from receiving messages from your Onfleet number.
HELP will return a help message informing the customer that they can use the above commands to control the delivery of messages.
To opt customers back into the messages coming from your Onfleet phone number, please contact Support at Onfleet to complete the opt-in process.