The recipient tracking page allows you to provide your customers with the real-time status of their driver and direct, anonymized communication channels. This support article will show you how to customize the design of your tracking page and how to configure these customer facing messages.
Customize the tracking page
To set up the recipient tracking page open Settings > Tracking > Customize.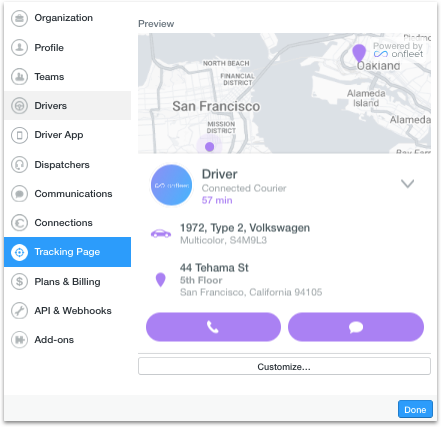 The customize window will open, allowing you to quickly tailor the data that is displayed to task recipients.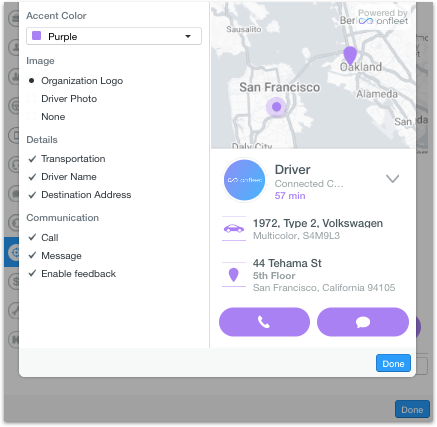 To change the accent color, simply choose a preset or add your brand's custom hex code.
Finally, pick either your organization logo driver's photo, or neither, to display. You can also select the details you would like to include; available options are: driver's vehicle type, driver's name and destination address.
Lastly, select the communication methods that you wish to offer to your customer.
Allowing customer communications and feedback
A very useful feature that can be enabled within the recipient tracking page is the ability for the customer to communicate directly with the driver. This is what the tracking page and driver communication would look like to a customer:
If feedback is enabled for your organization, when a driver marks a given task as Complete, the customer will receive an SMS with a link allowing them to leave driver feedback. An example of this rating link would look something like this:
If the recipient chooses to leave feedback and clicks on the link, they will have the opportunity to leave a five star review in a feedback portal that looks like this: