In this article, you will learn how to add a dispatcher to your Onfleet organization, you can also watch this quick video below.
Add a Dispatcher
To add a dispatcher, log into your Onfleet administrator account.
Open "Settings" and select the "Dispatchers" tab. Once in the "Dispatchers" tab, click the "+" button in the bottom-right corner, enter the dispatcher's email address and choose which team(s) they should have access to.
Once the dispatcher has been added, they will receive an invitation via email prompting them to complete the dispatcher setup by choosing a password for their Onfleet account. They will immediately be able to sign in to your organization's dashboard to create and assign tasks as well as view any tasks assigned to drivers of their teams (and all unassigned tasks).
Note: The dispatcher's email address must be unique. Sending a dispatch invitation to an existing user's email address will result in an error. "Plus addressing" (e.g. user+dispatch@onfleet.com ) will satisfy the uniqueness constraint.
Read-Only Dispatcher
Dispatchers can be designated as Read-Only users. While the dashboard appearance will not change, dispatchers with the Read-Only permission will not be able to add, update, or delete drivers and tasks.
To create a Read-Only Dispatcher, log into the administrator account and select "Settings", then click on the "Dispatcher" tab. Select the dispatcher you would like to restrict, and then select "Edit" on the bottom-right corner. In the dispatcher modal, check the box for "Read Only" under "Permissions".
To avoid any cached behavior, please have these dispatchers log out and log back in after you make this change.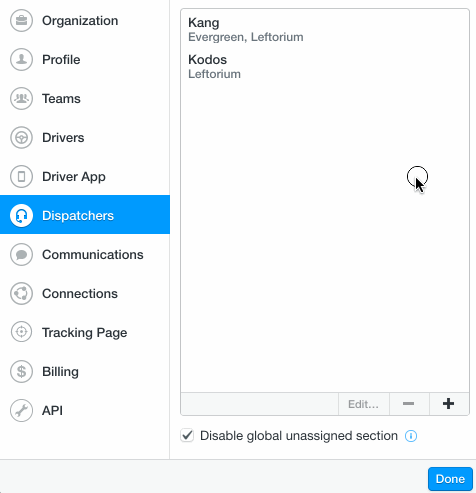 Remove a Dispatcher
To remove a dispatcher, select the "Settings" icon in the administrator account. Once in the settings modal, click on "Dispatchers" then select the dispatcher you would like to remove and click on the "-" symbol located at the bottom right corner.
Note: A dispatcher must be removed from all teams before you are allowed to remove them as a dispatcher from your organization.