Tasks can be created and assigned to drivers using three different methods:
To create a task manually, click the + button in the toolbar and select New Task… or use the keyboard shortcut T. You can also create a task from the map.
A window will appear with required fields to designate a recipient (or none), the type of task (dropoff or pickup), as well as a destination. Optional fields such as recipient notes, task details and a delivery time window are also available.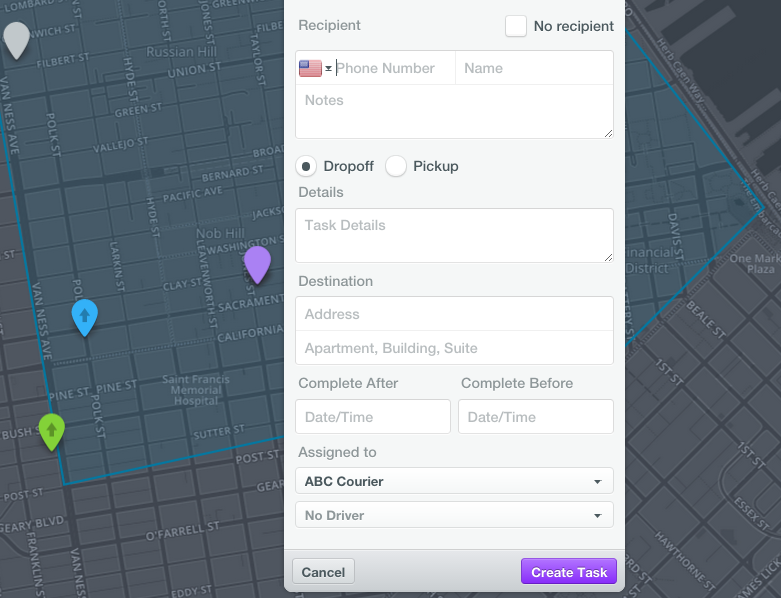 Recipient section
If the task includes a recipient, the name and phone number are required. If this recipient has been created before, the phone number will be recognized and the name and notes will fill automatically. To remove a recipient, suppressing all notifications for this task, simply check the box labeled No recipient.
Recipient notes should be used for specific instructions which apply to all tasks for this recipient ie: door codes, special drop-off locations, warnings etc. Recipient notes will remain attached to this recipient and will appear on all their tasks until overwritten or deleted.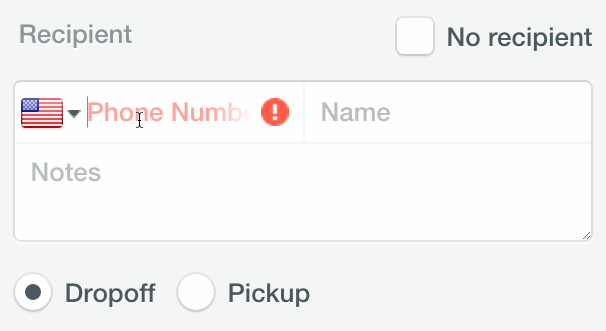 Details section
Optional details can be added to describe the work to be performed, the items to pickup/deliver, or even a link to an external document, website or app.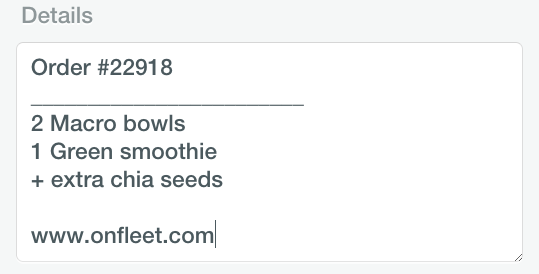 Destination section
A destination address must be entered and selected from the available drop-down options. If your address cannot be found or is invalid, you will need to correct it and select from the drop-down to continue.
Note: Only addresses with a street name and number are considered valid. Addresses without a street name and number or more generally described (e.g. "Pier 4") will not be accepted. 
Alternatively, you can also create a task from a specific location on the map. Destination coordinates will be captured through the map at the exact location where the task has been created.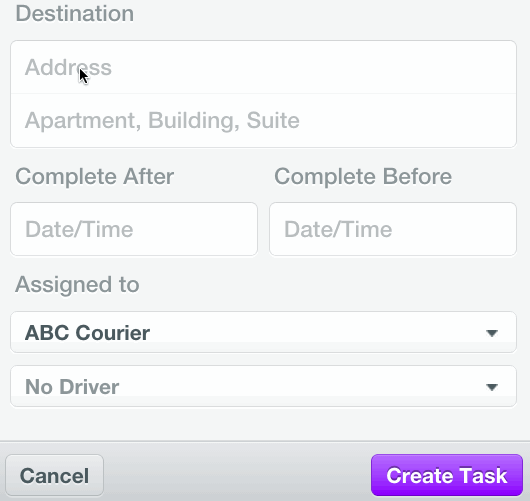 Time window section
If your tasks follow a schedule or you have provided an estimated fulfillment time to your customer, use the time window section to establish a Complete After and Complete Before time.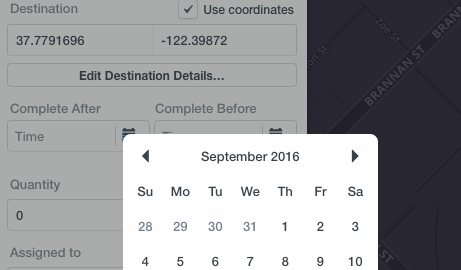 Route Optimization Constraints section
Note: You must enable Route Optimization to see and use this feature. 
Optionally, you can specify a task's quantity and individual service time to be considered during route optimization. See Define a Task's Quantity and Service Time.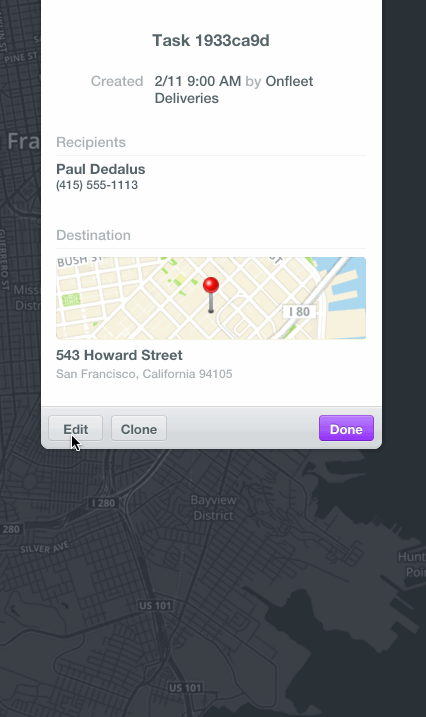 Assignment section
Assignment of the task to a driver (or a Connected Organization) can be performed now, or you can do it after task creation via the sidebar or map.